Vintners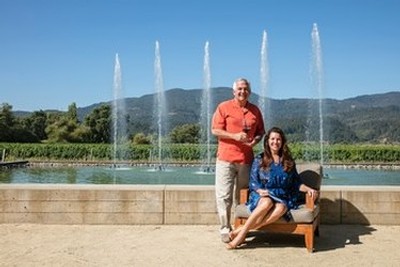 Robin and Michelle Baggett moved to Napa Valley in 2006 to found Alpha Omega. Robin began his wine career in 1988 as a grape grower, planting over 800 acres of grapes and in 1998 founding Tolosa Winery in San Luis Obipso. In the late 80's Michelle began her multifaceted career in the development of hospitality brands before she created the name and the brand for their future venture together, Alpha Omega.

Robin, a California native, attended Cal Poly on a baseball scholarship. In 1998 he was inducted into the Cal Poly Athletic Hall of Fame and in 2001 Cal Poly's new baseball stadium was named after him. In 2014 Robin received an Honorary Doctorate from Cal Poly. An attorney, Robin's law career included an 8 year stint as General Counsel to the NBA's Golden State Warriors. A Georgia native, Michelle's career designing 5-Star hotels landed her in Beverly Hills and then Honolulu as a Senior Designer of two of the world's leading international hotel architectural firms. Her hospitality development background then led her to a position on Hawaiian Airlines marketing team and thereafter into a Marketing and PR firm in San Luis Obispo.

Robin is a board member of the Wine Institute, Festival del Sole, First Tee of Monterey and Cal Poly's Athletic Director's Council. Michelle is President of the Rutherford Dust Society, Board member of the St. Helena Hospital Foundation and Founding Board member of the Napa Valley Film Festival. Both retain committee involvements with Auction Napa Valley, the world's largest lifestyle auction. In 2011, they were honored by the V Foundation as Vintner Grant Recipients. Supporting charities in the Napa Valley, Pebble Beach and San Luis Obispo communities, philanthropy is a second career for Robin and Michelle.