October 22, 2020 | Philanthropy | Alpha Omega
Join Friends of Alpha Omega Collective Foundation Fundraiser for NVCF Fire Relief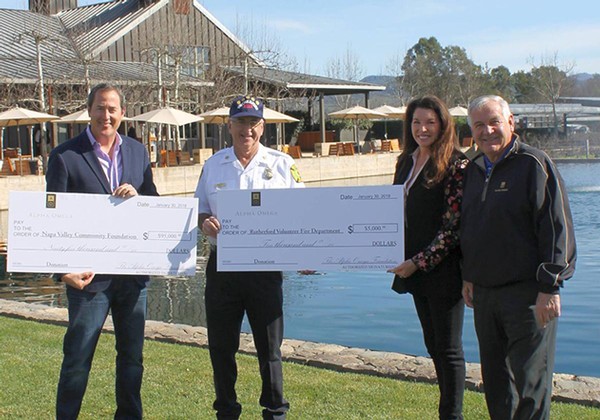 Once again, we are overwhelmed with gratitude after our Alpha Omega family's outpouring of concern and support for our Napa Valley community. Three years ago, the North Bay Fires devastated parts of our region and you were there for us. This year, after the LNU Lightning Complex fires and Glass Fire destroyed homes, hotels and wineries you asked how you can assist.

In 2017, many of you purchased a spot for one of our two Big Bottle Benefit BBQ events, helping the Alpha Omega Foundation raise $100,000. We proudly donated 100% of those funds to Napa Valley Community Foundation and the Rutherford Volunteer Fire Department. Due to the current pandemic, we cannot meet as a group, but we can gather virtually for a good cause.

We are grateful for your support of Alpha Omega's fundraising efforts to donate to the Napa Valley Community Foundation's Disaster Relief Fund to help provide much-needed assistance to those who have lost their homes, their jobs, their personal belongings – but not their spirit.

We would like the opportunity to show you our gratitude for your support. When we are all able to resume in-person events at our Rutherford estate, Alpha Omega will host a gathering for all of our generous donors.
There are three ways you may donate and support the Alpha Omega Collective Foundation fundraiser through the end of December:
1. Make a donation in support of Friends of Alpha Omega Collective Foundation 501(c)(3) fundraiser for NVCF Disaster Relief Fund Wildfires: 100% of all donations made to the AOC Foundation, a recognized 501(c)(3) tax exempt organization, will be remitted to the Napa Valley Community Disaster Relief Fund for wildfires. We are very appreciative to those of you who have already given directly to the NVCF.
By Credit Card:

Click here to donate via our secure website.

AOC Foundation Staff:

Please email AlphaOmegaFoundation@aowinery.com.

By Check:

Checks can be made payable to the Alpha Omega Collective Foundation.
Alpha Omega Collective Foundation Attn: Accounting
PO Box 822 Rutherford, CA 94573

By Wire/ACH:

Beneficiary: Alpha Omega Collective Foundation
Account: 4862554799
Routing: 123205054
Beneficiary Bank: Umpqua Bank, 1065 Main Street St. Helena, CA 94574
2. Make a donation directly to the Napa Valley Community Foundation Disaster Relief Fund
NVCF: Click here to donate via NVCF's secure website.
Designation: Disaster Relief Fund Wildfires
Dedication: Friends of Alpha Omega
3. Join Alpha Omega for a Virtual Tasting
The Alpha Omega Collective Foundation together with the Alpha Omega family is raising money for the NVCF donating 25% of proceeds of our virtual wine tasting experiences and virtual tasting wine sales through December. Please plan to join us for our Live Virtual Tastings on November 14th for Giving Thanks and December 12th for Holiday Giving Back to the Napa Valley Community.
We are forever grateful to the brave firefighters and other first responders, along with the volunteers, who saved much of Napa Valley and Sonoma County. And we are eternally thankful to you for your continued support of our philanthropic endeavors to assist the Napa Valley community.

Warmest Regards,

Robin & Michelle Baggett
Vintners
Comments
Commenting has been turned off.