January 5, 2017 | Wine Club Events | Alpha Omega
Holiday Train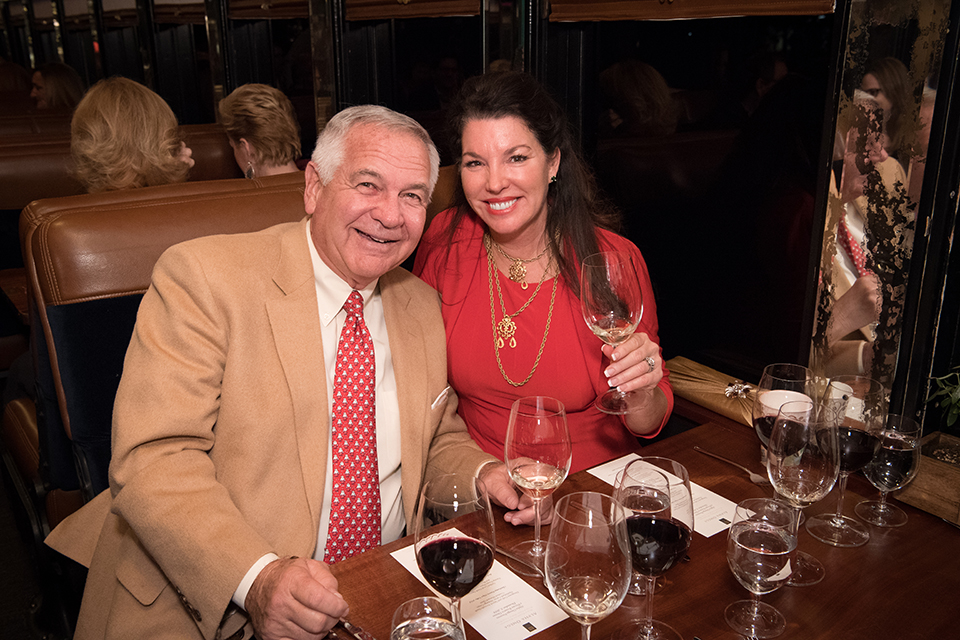 At Alpha Omega, we're all about creating intimate experiences with our vintners and winemakers for our ERA Elite members. We did just that on Dec. 3, 2016 when we chartered the Private Reserve, the Napa Valley Wine Train's new, luxury car, for a unique holiday train ride for 16 couples.
Vintners Robin and Michelle Baggett hosted this special evening, where Alpha Omega enthusiasts dined and sipped in style as they cruised in the single car along the historic Napa Valley Wine Train tracks.
The outing began at the winery, where Chris Carmichael, our Director of Wine Clubs and Private Clients, welcomed the group with his infectious smile and a glass of Alpha Omega 1155 Sauvignon Blanc. Oenophiles enjoyed the blazing fire pit and festive atmosphere before it was train time.
The Private Reserve's vintage interior features buttery, brown leather love seats with plush, tufted navy velvet backs accented by rich wood grain. While the luggage racks above each of the two rows of seats are a throwback to the days when trains were the preferred mode of transportation, the cool, overhead lighting that changes color and is reminiscent of a Virgin America aircraft brought riders back to the present.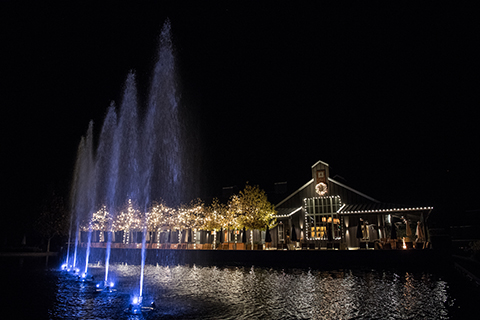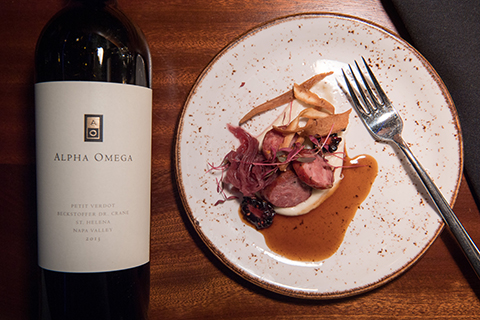 A delectable, five-course, gourmet dinner prepared onboard featured a curated selection of our premium wines: Alpha Omega Chardonnay Reserve Napa Valley 2012, Beckstoffer Dr. Crane Petit Verdot 2013, Cabernet Sauvignon Beckstoffer To Kalon North Oakville Napa Valley 2010, Cabernet Sauvignon Beckstoffer To Kalon South Oakville Napa Valley 2010, ERA Napa Valley 2009 and Late Harvest Reserve 2006.
The guests marveled about what a treat it was to taste the two To Kalon wines side by side. Although the wines are from the same vineyard and vintage, the differences between the South and North blocks are so remarkably distinct that our winemaker Jean Hoefliger bottled them separately.
In addition to savoring delicious food and wine during the three-hour ride, ERA Elite members also mingled with the Baggetts and gazed at the holiday lights that adorned the wineries along Highway 29.
This was truly a memorable excursion. Due to the positive response, we hope to offer this experience again.
Comments
Commenting has been turned off.