April 26, 2017 | Wine Club Events | Alpha Omega
Ringing in a New ERA
The weekend of April 22-23 could not have been more perfect for Alpha Omega's annual ERA Weekend. Two spectacular parties on Saturday and an exclusive ERA Elite lunch on Sunday highlighted the two days of festivities.
For the first time in our history, we closed the winery to the public for the ERA Party and put on two two-hour bashes. This new format allowed our staff to give our best customers the attention they deserve.
While Alpha Omega vintner Michelle Baggett mingled with partygoers on the terrace and ERA Elite members in the ERA Elite Lounge reserved just for them, winemaker Jean Hoefliger greeted partygoers at the door and Associate Winemaker Jaime Dowell extolled the virtues of ERA 2015 as she dispensed the latest vintage of our flagship wine from barrel into the glasses of appreciative guests.
Our Drew Vineyard on Mt. Veeder makes its ERA debut in the 2015 vintage, and oenophiles had an opportunity to taste our first vintage of this Single Vineyard. Wine enthusiasts also sipped and savored various other Alpha Omega Single Vineyard Cabernet Sauvignon wines and current releases, noshed on scrumptious fare and listened to the melodic tunes performed by guitarist/vocalist Don Dubnow.
The following day began with our first-ever cooperage tasting for guests. This rare treat took place on the Vineyard Terrace under bright, sunny skies. Jean took our ERA Elite members through a tasting of ERA 2015 broken down by four cooperages, explaining the nuances of how climate, location and other factors make French oak barrels unique to each cooper. For the finale, ERA Elite members tasted the blend of all four coopers, which together form ERA 2015. Guests raved about this special educational experience.
Our vintners, Robin and Michelle Baggett, were on hand for the elegant, sit-down lunch on the Vineyard Terrace that followed. Guests feasted on scallops, paired with Alpha Omega Chardonnay Reserve Napa Valley 2014, truffle rack of lamb, paired with Alpha Omega ERA Napa Valley 20009, and braised short ribs, paired with Alpha Omega ERA Napa Valley 2011. Guitarist Nate Lopez put on a brilliant performance from the sidelines for our ERA Elite members, who enjoyed Alpha Omega Drew Vineyard Mount Veeder 2015 and a deep rich cocoa mousse for the final course.
Afterwards, Robin gushed over Drew Vineyard and Michelle spoke passionately about our upcoming participation in Auction Napa Valley and the good the money raised does for the local Napa Valley community.
This was truly a weekend to remember. We thank all our Alpha Omega family members who attended this glorious celebration of ERA 2015, currently being sold for a November release. To inquire about ERA, click here.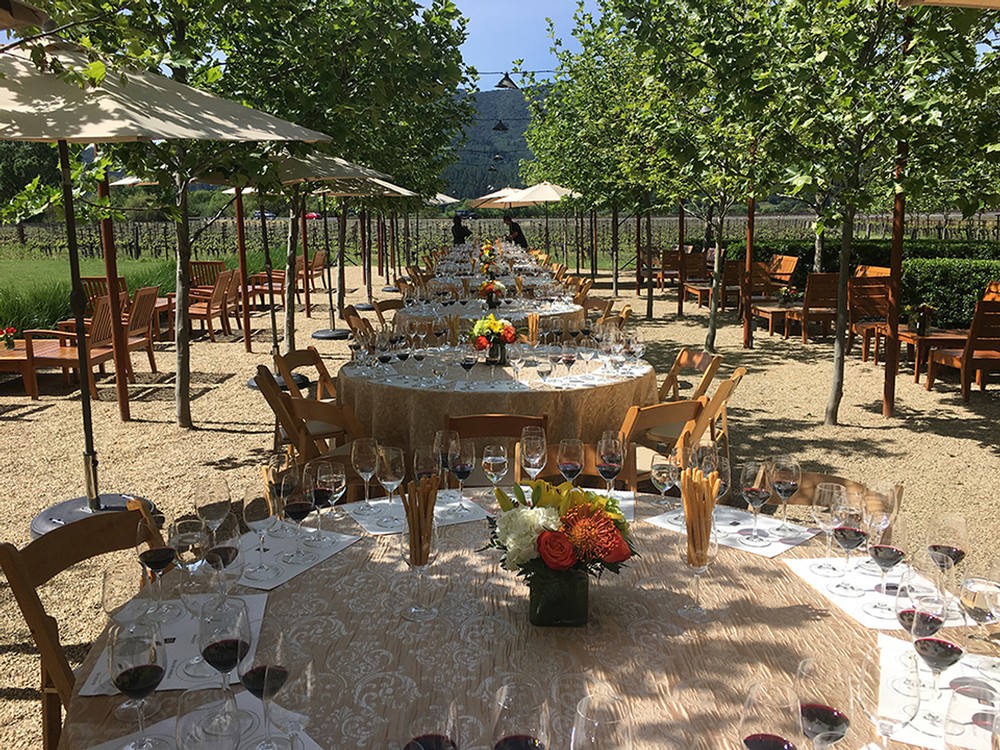 Comments
Commenting has been turned off.