February 7, 2023 | Stricker | Alpha Omega
Stricker: Digging the Soil Pits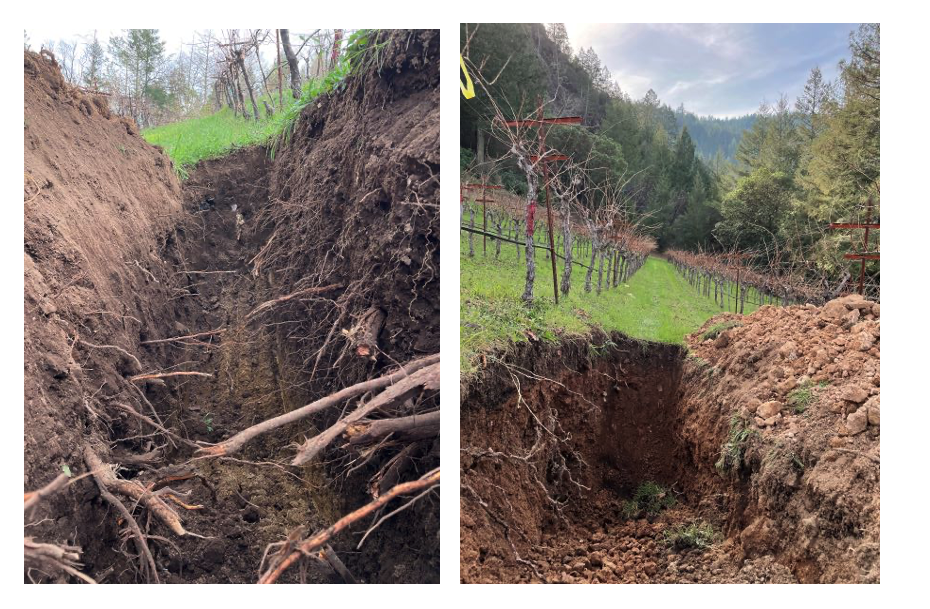 In many blocks, the soils reveal layers of marine deposits and clay atop red volcanic uplift.
Part 2 in our ongoing series, Stricker: The Rebirth of a Mountain Vineyard
A foundational early step in the Stricker Vineyard replant involves really understanding our hillside soils. To do it right, we had to break out hard hats and put the heavy equipment to work. The "soil pits" we recently dug into the slopes of Mount Veeder reveal the geological complexity of what's underneath the surface, and ultimately what our mature vines will burrow through in their ceaseless quest for water and nutrients.
The results of the soil analyses taken from different portions of the vineyard will inform our decisions for block division and clonal selections. This critically important process can't be left to chance, as we are placing a multi-decade wager on the plants that will go into the ground. Seeing what's under there – and having the talent in viticulture and winemaking to interpret the data – will guide many of our most important decisions at Stricker. We'll post updates as the results come in from a world-class team of soil scientists.
Stricker Vineyard Cabernet Sauvignon Napa Valley 2021
will be released this fall.
Comments
Commenting has been turned off.