March 28, 2023 | Stricker | Alpha Omega
Stricker: Farming the Hills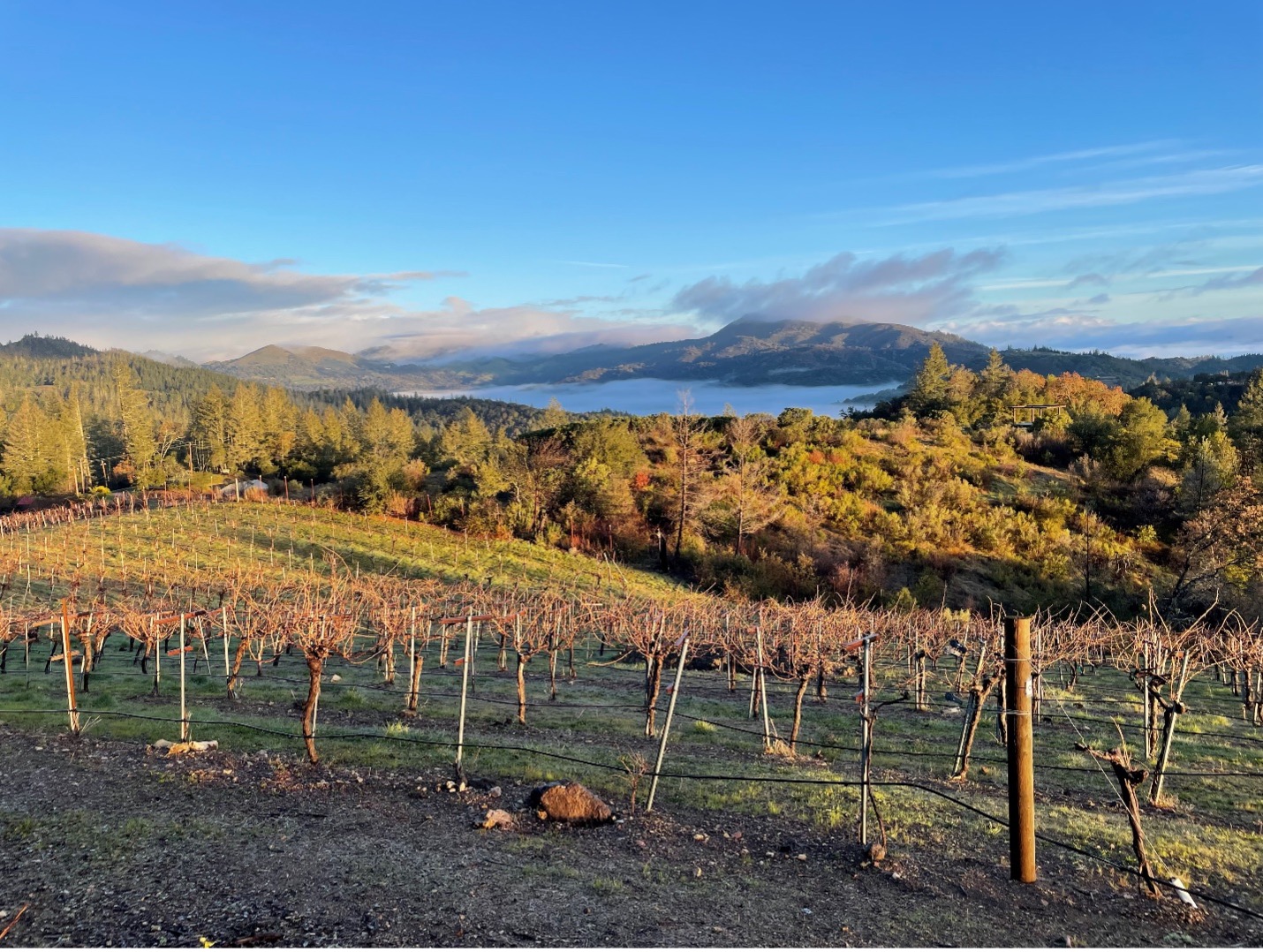 That's not a lake! Looking northeast from our estate Stricker Vineyard on Mount Veeder, morning fog hovers above the Napa Valley floor.
Part 3 in our ongoing series, Stricker: The Rebirth of a Mountain Vineyard
There's an ancient axiom that "Bacchus loves the hills". It certainly applies to fine winegrowing in Mediterranean climates like ours in Napa Valley, most notably Italy, southern France and Spain. Stubbornly determined vines gnarl and twist deeper with each passing vintage in their quest for water and nutrients, often surviving where little else can be cultivated. It is a well-tested belief that struggle builds character, and the results from vineyards at elevation are often extraordinary.
Napa Valley's hillsides are no exception. If you want to get a winemaker's pulse racing, tell him or her that there are mountain vineyards on the harvest list. The complexities of weather and geology, even in micro-climates a few hundred feet from one another, present a challenge for both farmer and winemaker that borders on the artistic.
While there's often the advantage of natural drainage on sloped vineyards, the vines are physically closer to the sun. In marginal climates like Germany, every degree matters. In sunny California, we have the opposite challenge and need to avoid leaf dehydration and sunburned fruit. At Stricker, we're blessed with the height and cooling effect of a surrounding redwood forest, and our exposure to intense afternoon solar rays is mitigated by trees and ferns. Our long row orientations are designed to maximize sunlight exposure before the sun begins to creep over the Mayacamas Mountains range towards the ocean. Slow, even ripening across the growing season then becomes the goal as we aim to maximize the color and flavor of our tiny Cabernet Sauvignon and Chardonnay berries. This is the reality of farming a mountainside.
Stricker Vineyard Cabernet Sauvignon Napa Valley 2021
will be released this fall.
Comments
Commenting has been turned off.