April 27, 2023 | Stricker | Alpha Omega
Stricker: Adding Bats to the Lineup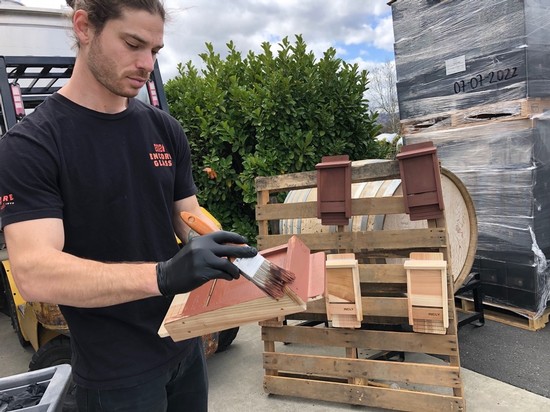 Enologist Eli Byron preps and stains habitat boxes. The color will influence the amount of radiant heat absorbed, a critical factor in bats selecting a permanent home.
Pest control is one of the single largest challenges of organic farming. Tipping the scales in the farmer's balance remains a daunting task, one that requires constant vigilance and dedication, as many of the most destructive diseases that can afflict a vineyard arrive by tiny, flapping wings. Various bugs with sci-fi names (and appearances) like the "blue-green sharpshooter" and "alfalfa hopper" can wreak all manner of havoc on otherwise healthy vines.
To help mitigate the insect population at the Stricker Vineyard on Mount Veeder– along with several other estate properties – our winemaking team is installing bat boxes. These protective structures can support a voracious colony of up to 10 bats, each of whom will consume hundreds of insects every hour. Napa's seven bat species can eat more than half their body weight in insects in a single night, and they silently do the work of consistent and effective pest control without the use of chemicals. Working in conjunction with Mother Nature allows us to protect the health of our land, vines and workers while still farming the world-class grapes that define Napa Valley.
Stricker Vineyard Cabernet Sauvignon Napa Valley 2021
will be released this fall.
Comments
Commenting has been turned off.